Make your phone case unique!
The cell phone has become one of our most personal things that we carry around with us every day, everywhere. It has almost become an extension of your own personality.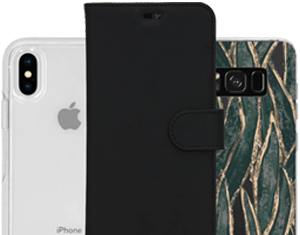 Why then do they all look almost the same, half metallic, half black glass – mass goods from the factory. This is not particularly personal. With cell phone cases you can make the whole thing a bit more individual, with other colors, textures or designs. Stickers and stickers fit perfectly there – you are a bit more flexible. There are countless designs in which everyone can find something for themselves. Regardless of whether it's a protective shell, silicone or new trends such as sleeves or the ones with an integrated wallet. You have so many options these days that you almost get dizzy.
My favorite solution: design yourself
Nevertheless, it is still mass-produced goods, if a little more individually. But my absolute favorite is to make the whole thing unique with a self-designed mobile phone case – and thus to set a very personal note.
You can either go 100% DIY and let off steam on an existing cover with paper, stickers, paint and the like, or you can leave the production to the machines and simply design on the computer. This also has the advantage that you get patterns and textures that you would not be able to manage on your own.
And thanks to technology and the Internet, it is now as easy as posting on Instagram! With just a few clicks, you can design your own phone case yourself, completely unique. You have a completely free hand in design – the only thing that limits you is your imagination! No matter whether pictures of family vacations, pets or mottos, this is so uncomplicated and direct that you don't even have to think about it. Simply select, personalize and order the right mobile phone model and cover type. After a few days you can then look forward to a shell like no other in the world!
In my opinion, this is an extremely simple and stylish way to make your cell phone actually look like this. One thing is certain, you will never again be confused with someone else's. It can then immediately be recognized without any doubt:
This is your Mobile phone.
The perfect gift
And you are not the only one who will be happy to have your very own, self-designed mobile phone case. Give your friends and family a gift that they will carry with them all the time and that they will think of you every time they hold their cell phone in their hand – almost every five minutes! But having fun, DIY and self-designed gifts always have a personal touch, because you can see at first glance that you actually thought about it.
So if it's time for a birthday, anniversary or Christmas and someone still has a boring, dreary shell like millions of others have, then this is the perfect opportunity to do something good for him. Too many people only focus on usefulness and completely ignore the look. It is so easy to have both!
Adjust to the environment
I was so impressed by the quality of the sleeves that I designed myself that I also ordered a sleeve for my business cell phone on the same page – this time without personalized printing – this may be a bit more appropriate for the Boss appearance. But still there was such a good selection of designs that I bought a Samsung Galaxy A51 case for the work that fits my style and the work environment perfectly. Now I don't walk around with a boring black silicone case anymore, I have something that suits me – and still looks professional!
The post Make your cell phone case a personal one-off! appeared first on DIYDEKOIDEEN | diy ideas – deco – craft ideas – gifts – decoration.